From time to time I come across amazing errors by top Internet sites, I am sure many of you have also, but that got me thinking these sites generally speaking don't actually want to hear from customers, they want you to buy something and go, but what if you can't and the retailer has no clue and they could be losing tens of thousands if not hundreds or even millions and they don't have anyway of customers to let them know, well this seems to be the case over at the Disney Land Paris site.
Since last Friday 5th June I have been trying to book a small break at Disney Land Paris, but I can't book a hotel, because when you visit the hotel booking part of the site you are greeted with an "Error: unable to load model (file not found?): configHotels.xml". I even Twittered about it on Friday in the hope that one of my contacts knew someone on the Disney web team. So how much money has Disney lost, how many people are going via another Travel Agent or changed mind because they can't book direct, well only Disney will know that but if they announce that bookings are down this year, would this have played a part, I would think so but I am not too fussed about that, all I want is to book a break away.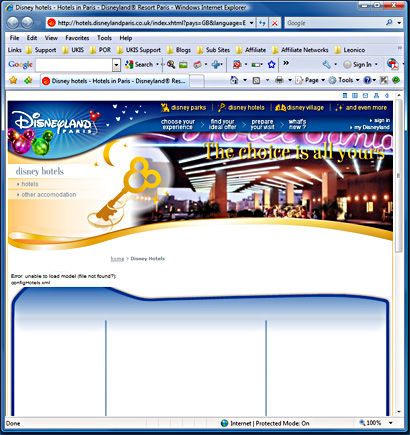 So who is this error affecting? Well it seems that IE7 and IE8 users with Flash 10 installed (I have version 10,0,22,87 installed) can view the Disney site but can't book a package, as they get the following screen.
Now to be fair to Disney they do have a "Contact Us" link and I clicked on this and have let them know, however one of the mandatory fields is picking what country you're from, no problem I am from the UK. Oh no UK option, ok Britain, nope.. ok how about Scotland, no again, England nope.. so where am I from, well it seems if your from Afghanistan then no problem your country is listed but if your from across the water in the UK you can't pick that as an option and instead have to select "Unknown Country" is the UK that small and sends so few people to Disney Land Paris that we are not even known anymore, shame!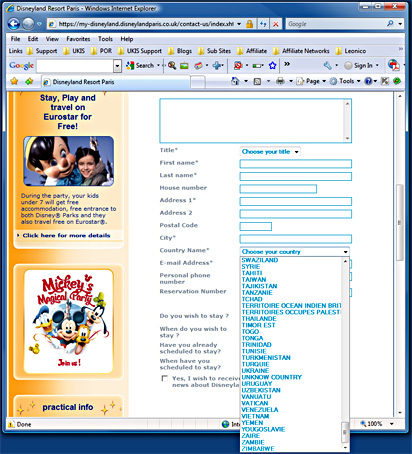 So here it is, Disney Land Paris who is on TradeDoubler offer up to 6.5% commission to Affiliates but since the site doesn't work for many users of the most popular web browser won't be making very much and Disney will be losing a tonne of money. If someone from TradeDoubler would like to contact Disney and get them to fix it, and let them know I told you, cause if they would like to spread some Disney Magic my way, a 3 night break at the Disney Hotel would be really nice and I am sure nothing compared to the hundreds of thousands I will have saved them as I am sure all the TV adverts where people can't book must be losing them money, remember my post  on checking your website with all the browsers people actually use, cheers I look forward to my holiday.