Yes, I did just say 14 days (of course it could be less or even past depending on when you read this). So here is my pitch as to why you should go, now I am not preaching to the converted here, the usual suspects will be along and probably booked up weeks or even months before.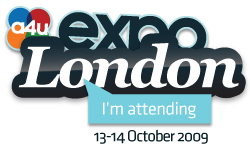 This post is basically a brief, get a ticket, get a cheap hotel and come along, to the folk that maybe have looked the past few years and thought, I would love to come but I don't know anyone (more reason to meet people) or, it might be full of these super intelligent folk that when I speak to them I feel stupid (it's not and you won't!).
The thing about the a4u expo is everyone gets something different from it, and it has a lot to offer, especially for the industry new starts. It's probably going to be one of the very few times you meet the most networks, merchants and agencies in a two day period, indeed it's pretty handy for getting to know a lot of people quickly. Personally I enjoy wondering from talk to talk, meeting people as I go and then relaxing with a nice drink and some good company at the evening events. Yeah I know, should be sell, sell, sell. Contacts, contacts, contacts but that's not for me, but if you're that type of person then you can do just that. Affiliate wise you will find the majority of your fellow affiliates are very friendly and pretty open when it comes to discussions about what they do, who they promote etc, great to compare notes on who to promote and who not to promote 😉
Now several sites have covered the agenda, so I won't bother 😉 Kieron is even giving you a chance to win a free ticket, but you only have until midnight tonight (28th Sept) to take part.
Jason – So What's On The Agenda for A4UExpo? Day 1
Jason – So What's On The Agenda for A4UExpo? Day 2
Kieron – Win a ticket, grab a discount code and why you should go.
If the coverage from Jason and Kieron has not convinced you, then I am not sure what more I can add, maybe others want to leave a comment saying why people should attend, maybe you have an interesting talk that people should come and listen to at the Expo, if so add you comment and let the swaying, last minute, I am not sure folk know.
Find out more about the a4u expo and book at www.a4uexpo.com