You reach a certain level in Affiliate Marketing where you have learned the basics on how to get sites to rank, customers to click from your page and buy from Merchants. It's time to start paying more attention to your own mini-brands, how you look and what people think of your site. Normally the first impression is your logo, name, look and layout if it's poor you could be potentially losing users based on the perception that as long as it is 'shiny' and 'nice looking' it can be trusted.
Some Affiliates are great at design themselves, that's how they got involved in Affiliate Marketing. Others have built up an ok size business and employ a full time designer or developer, they have the advantage with respect to design, most of the time but even they can use a helping hand when it comes to getting loads of fresh new ideas that they can go on to develop from and that's where 99 Designs steps in. I can hear the over paid design "guru experts" crying slave labour as I type. Well guys, sorry to say but we do live in a global economy and sourcing work around the world is the reality now, but I do respect the need for a local or in-house resource for design and to this end I employ 2 full-time designers across my two main companies.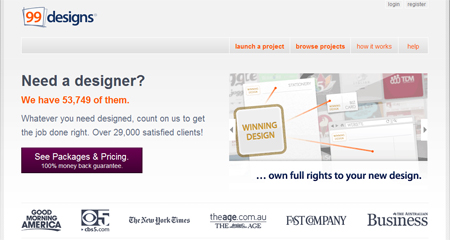 Why use 99designs?
Well first and foremost it's a "design competition" where you set what you can afford and supply the brief. It's main strength is the number of entry's and ideas that are submitted, it's main downside (or plus side depending on how you see it and use it) is the time taken to get replies and manage all the entry's, think The X Factor / American Idol and be Simon when giving your view, aka say what you really like and don't like, but maybe a little nicer ;-). If you put in the time you can easily get professional level logos and branding at a tiny fraction of what a branding agency would charge you.
Other Design Stuff
99designs can be used for other stuff like stationery, t-shirt design, twitter background etc but personally I think once you get a logo/brand you like you can tweak and design other stuff using that as your base.
Designs Time and Costs
Well this is the surprising bit, you could have a really top quality logo / brand for as little as $400 / £245 total paid out ($300+ listing fees etc). You can of course pay a lot less but the level of people taking part both in numbers and quality will drop. And last but not least, you can go from idea to completed design in 7 days and that's part of the magic of 99designs.
Summary
I found out about this site via a fellow Affiliate and have now used it 4 times, 2 times direct and 2 times via companies I am involved with. I was pretty amazed to see that a fair few folk I know in the Affiliate community are using this site, indeed many of the logos you see on Twitter Icons or at the A4UForum have actually been designs via 99desings yet surprisingly it's still a pretty well kept secret in the Affiliate community, well not any more 😉
The Website for 99designs can be found at http://99designs.com
You can find me on Twitter @ClarkeDuncan where I talk about Affiliate stuff and other things.