Posted on 24. Jul, 2009 by Clarke in Affiliate Window
Some times in Affiliate Marketing some things just stand out like a sore thumb, it was only 2 weeks ago we had a forum member spam pages and pages of the blog section and today we have Affiliate Window rig what post should be at the top of the "Hot Members Blogs" section at the front of the a4u site. The post done at 1am this morning has managed to attract 13 back before 10am today and every single one of them is a member of staff for Affiliate Window, personally I think it's a poor show, if day 17 of the Darwin project was that awesome to Affiliates they would back it. Sorry guys but this little stunt at the expense of genuine decent posts is not cool.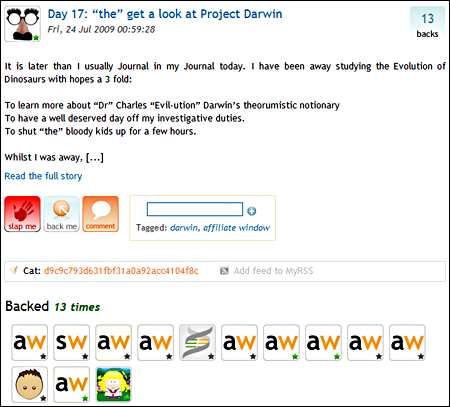 So if you're reading this I urge you to slap the post back from where it came, view the post here and hit the "slap me" button.