Here is a few bits of Twitter advice aimed at everyone, but focusing mainly on Affiliates, Merchants and Networks. I don't claim to be a Twitter "Guru", I am just sharing some advice I learned over past few months that I hope you will find useful.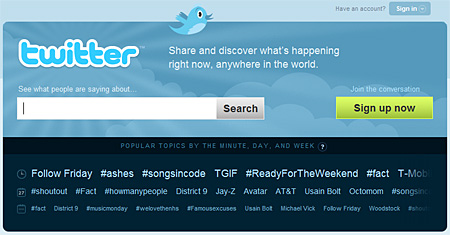 Length of your Twitter Name
Basically the shorter the better but still try and get across your brand, your name or your product or what you do. Think about this you have 140 characters to type your tweet and while your name doesn't matter too much on the tweet you send out, if you want people to re-tweet your message and your name is 15 characters (maximum it can be) then you just committed your tweets that you want to be re-tweeted (RT) to maximum size of 120 characters by time you factor in the RT, @ and the spaces between them. That's not a lot of space to say what you want to say.
From what I have read on the Twitter Blog, Re-Tweets will soon be changing so you don't use lots of your valuable 140 character space.
Short URLs
Always deploy short URLs as they will save you space unless you happen to have an ultra short url already. Affiliate Window have an option to make URLs smaller so use it if your including a link to an AW merchant. I highly recommend bit.ly but remember and sign-up for a  free account with bit.ly as then you can track the clicks via a simple stats view they provide.
Brand your Twitter Page
Get an icon made that represents you, it could be just a photo of yourself, or if it's a brand or product maybe your logo but something that says to people, this tweet is from so and so without having to read the name, it's also handy if your like me and don't always have time to read all tweets so you scan for the icon of friends, affiliates, merchants or networks you want to keep up to date with at that point.
You can also customise your background image, so make use of this feature. I use an iPhone to read and view my tweets, but I often find new people to follow via websites or blogs and the overall impression they give you when you visit the page can often be the decider if this person is the type you want to follow, same goes with filling in your name, URL and biography do it and do it fully, it helps people find you.
Multipliable Accounts
For some, running one account is already too much but if your serious about building up your Twitter presence with people following you that you want to do business with or even if your looking for a bit of social interaction then doing it from your companies Twitter account is not a great idea.
So my suggestion is that you have a company and a personal Twitter account, now you can take this a step further and have an account just about you for business and one for social / friends but personally I am currently of the opinion that I would rather do business with someone that has a social side to them and is not just trying to sell themselves 24/7. When I look at some of the American folk on Twitter it seems many are against saying anything social in what they see as a business channel for themselves and you know what that's fine. Personally, I wouldn't be turned on to "how great am I" or "check out this awesome service"  tweets all day long 😉
Now one thing I think is under used by Merchants is having a Twitter account for customers and a Twitter account for Affiliates, indeed I would go so far as to say Merchants should have a Twitter account that's public for customers and have a private one for sharing information with Affiliates and the reason I think it should be private is this gives them much greater freedom to get important information out to their Affiliates without giving the competition a lead and this is done by vetting who can see what your saying but that's totally up to you and how private you feel your communications from the outside world need to be.
The ideal Merchant set-up in my books would be Customer based tweets, Affiliate based tweets and staff from the company with their own Twitter account and ideally one of the top dogs from the company on for real. Yes, that's a pain to manage multi-accounts but honestly I think it's best for getting your messages across to the right audience and there is a few tools/apps that let you do this.
Networks should also look at how they Twitter, do I really need you to feed your blog in to your main Twitter account? No I don't, but do I want you to highlight important blog posts, fun blog posts, new merchants joining, that would be neat. I also would like to see some of the people behind the Networks using their own personal Twitter accounts, not company run ones. But themselves on Twitter talking to me about work and being social also. The dudes at Affiliate Future are pretty good at this and so are certain individuals at other networks, but if your on just selling your company, don't bother!
Hash Tags
Hash tags (#) or pound tags as my American buddiess like to call them are a great way of following the buzz about something like an event. AÂ recent example was #existemambbq what these allow you to do is see who is talking about the event, but you might not be following on Twitter. I used it to hook up with someone who I didn't even know was going, so if you are attending an event, or got a new product launch or creating some buzz around something, get a hash tag on the end of your Tweets so it becomes easy to search for.
More to come
I will post more tips as I get them, I am not a Twitter expert (yet!) but I am constantly seeking out information, talking and meeting with people who have advice to share and slowly collecting the "what to do" and "what not to do" on the Twitter space, so while I am no expert I know a heck of a lot more than someone who has yet to try it.
I truly believe that Twitter should be a part of every business strategy and what you get from it and what it will do for you will be based on what you put in and the time you take to understand it, or just pay a Guru to do it for you 😉 because I am positive long term it will pay dividends, just think about the amount of companies that didn't really see the point in the Internet, we laugh now but mid-90s it was consider a luxury to try this Internet thing.
Twitter, it's here to stay and remember some people are listeners and not talkers on Twitter and that's cool also, but I would rather you joined the party!
Follow me on Twitter @ClarkeDuncan.