Many of you may know Jason Manford off the telly; he is one of them sharp witted "9 Out of 10 Cats" comedians, amongst other things, plus he was of course the 2009 host of the A4U Affiliate Awards.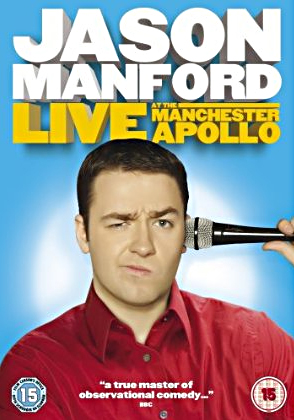 I have been following Jason Manford (@Jason_Manford) on Twitter via my personal Twitter account (@Supercod), where I follow things for fun (@ClarkeDuncan is my work/affiliate one). Jason is always giving out free jokes to the masses, much like Jimmy Carr, but this blog posts not about Jimmy, it's about Jason. Now being an Affiliate and also Network owner I am always interested in what people do online, even more so folk who don't tend to think about monetising what they do. In Jason Manford's case he is, but from the stand point of a celebrity pushing their DVD's, Books, tickets for gigs, etc. So this got me thinking, Jason is currently pushing his Christmas DVD, you see it in his Twitter stream, on his Bio "Buy my Live DVD at …." And on his official site he is sending customers to Play.com, Amazon and HMV all for free!
Now clearly he is thinking, if he lets people know about his DVD, people may buy it and he will make money from his percentage as the star of the DVD. But what if he was thinking about both ends of the deal, not just the people buying his DVD but the fact he as a celebrity is endorsing buying his DVD from certain companies and so transferring his "goodwill" aka his endorsement of them as the company as the place to buy his DVD from, should he not be getting paid for that? I think he should be and Affiliate Marketing is one of the ways he can do this.
Now I don't represent Play.com, HMV or Amazon so I am not making money off putting this idea forward. But there exists many opportunities like this for companies to use their Affiliate Marketing to actually get celebrities to send their fans over to their shop to buy the DVD/CD etc. and the celebrity gets paid for not only every one of their own DVDs bought but also anything else the customer they send goes on to buy from the store.
To me it's not a stretch of the imagination to think that Jason Manford couldn't Tweet out, "hey my mate Jimmy Carr has got a DVD out this Christmas" with link to DVD at Amazon or whoever. And Jimmy could do it back. The only question is, what level of return will they make, is it hundreds, thousands, tens of thousands or more, well I don't know the answer to that one, I guess it's going to be based on the level of fans etc they have.
I personally think celebrity folk pushing their own items to their own fan base should convert at around 5% however I have no facts to base that on so here is an example of additional income based purely off number of Twitter Followers only and let's just say they only convert at 1% and what it would look like going up the scale.
Let's take Amazon, DVD costs £12.98 and commission goes up depending on number of items sold, note that people can buy other things at Amazon and you get commission on that also, not just the DVD but I have not taken that into account here.
1%  =  408 @6%  =  £317.75
2%  =  816 @6.5%  =  £688.46
5%  =  2,040 @7%  =  £1,853.54
10%  =  4,080 @7.5%  =  £3,971.88
So not super amounts of money, but based on 1 DVD and the tiny amount of time it takes to set-up an Affiliate link, it could cover costs of running a website for example. But as I say doesn't have to stop at 1 DVD it could be other folk's products etc.
Food for thought, and then you have books and ticket sales, etc but let's not run before we can walk. And if your thinking no celebrity is going to have time to do the Affiliate stuff, of course, it's the job of the webmaster, manager etc to sort out the logistics and if they are stuck give me a shout, backstage passes and free signed goodies always go down a treat LOL 😉
You can find Jason Manford on Twitter @Jason_Manford, he has 40,800+ followers and you can find me on Twitter @ClarkeDuncan, I have 640+ 😉
p.s. picked Jason_Manford because he has a tiny connection to Affiliate industry with him presenting the Affiliate Awards and the fact he is really on Twitter as himself (unlike some other celeb fakes), he replies to people all the time. I gave him the heads up about this blog post before posting it and said he was going to take a look. He is like my 1st celebrity to reply to me on Twitter, so does that make me cool or what, mmm maybe not LOL 😉