Posted on 23. Jul, 2009 by Clarke in Events
Got back yesterday from the a4u Roadshow in Bristol. Great event that had a reasonable turnout, but not as many as last time, however funnily enough the events that are not so crowded actually turn out to be the better ones. A good mix of Affiliates, Merchants, Agencies and Networks attended and special guest Brodie who Claire from Existem brought by to say hello however I wasn't sure if Julie was going to hand him back

.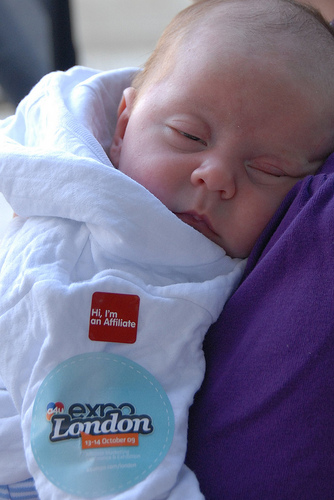 Brodie, Claire Taylor's of Existem's Baby Boy*
Big thanks has to go to Existem-AM for the bar sponsorship, and extra thanks to Mark who was even so kind as to swing past the Airport on his way up to the event to pick me up, how lucky was that

It was great to see so many of the "old school" and meet a few new faces. Looking forward to the roadshow events coming up in Manchester and Edinburgh, if you have not been or are not sure about coming along as you don't know anyone, don't worry just turn up and before you know it you will be on the road to making new friends in the industry.
See 4th August in Manchester.
More photos from the event and past events at http://www.flickr.com/photos/a4uexpo
*Photo reproduced with kind permission from Claire Taylor and Existem.